Does anyone have any idea on how to match the Unity hexagon grid from the new 2D tools? I've been trying for 2 hours to get them to work properly but the node sizes are not the same and I can't quite get them to match.
For Clarification my game is not a grid based 2D game but uses tilemap to make the levels.
Here's my Unity Grid settings:
Hexagon point top
Cell Size: (1, 1.154701, 0) (By Default they are squished to fit 1x1 unit, this makes them approximately regular hexagons)
Layout Hexagon
Cell Swizzle: XYZ
Here's my Astar Path Settings
Shape: Hexagon
2D: True
Width:100
Height:100
Node Size: 1.23(Best I could get to match the unit width)
Center:
(0.25, 0.425, 0)
Rotation: 15
Use 2D physics: True
Collision Testing: True
Collider Type: Circle
Diameter: 0.75
Obstacle Layer: Walls(my Hex grid has a tilemap collider on it with a layer wall)
Unfortunately the grid is not precise enough this way and after going only a few tiles from the center, it no longer aligns close enough to fit into the spaces near the walls things can't pass through single spaced openings etc.
Dropping it down to Diameter 0.7 allows it to work though those spaces but it overlaps some of my Tiles and on occasion it misses a space that should be open
Near the center it works great: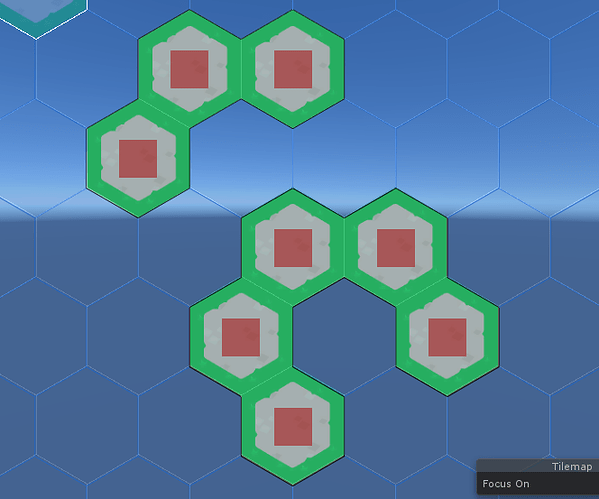 And Finally 70 or so tiles right of center:

Anyone know a way to get the tilemap to match better? Also I guess this could also be a feature request to have default settings to match the Unity 2D tilemaps from the 2018.2 release.