Hi there,
My maps are usually orientated along the 3 world axis - everything the user can build (which then has a NavMeshCut) is neatly rotated to 90 degrees along the 3 world axis.
I have one map that doesn't follow that rule, and it gives me a bit of a headache.
My NavMeshCuts are set up like this: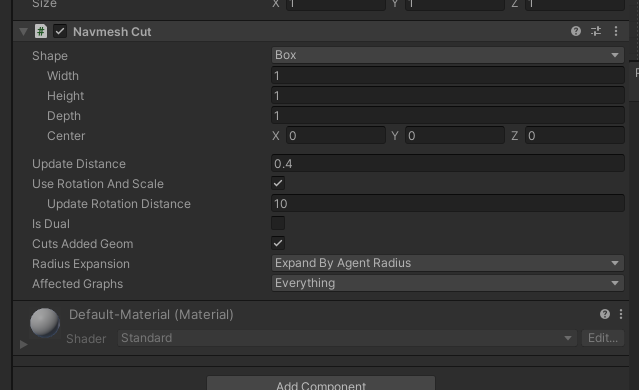 When the player places an obstacle down on a "tilted" road, the NavMeshCuts rotates properly along the Y axis. However, it doesn't rotate long the "tilt" of the road.
If you look at the image here, the user placed obstacle (the stack of boxes) is slanted like the road (compare it to Unity's axis indicators in blue/red/green). You can see the green outline of the obstacles collider that is rotated the way it should be.
The NavMeshCut on the other side is not rotated this way, even though it's a child of the stack of boxes (so to speak - the NavMeshCut gameobject has the same rotation as the stack of boxes with its colliders).
Because of that, it takes up more space than it should. You can see that by looking at the navmesh outline to the left of the stack of boxes: It should always be the same width, because there's always a gap of 2 squares between the obstacles.
Can you please shed some light on this?