Hi again,
I think I learned about Grid Graphs, and now playing with NavMesh Graph, so things turns up not to be intuitive, would you please help me understand:
I have created a simple terrain in blender, cut off the walkable part, so its a separate mesh.
The imported fbx is correct scale and you can see its been placed on the scene without any modifications (0 position, 0 rotation).
Walkable mesh in this case is a child of terrain fbx, which also has nonwalkable rocks and sides.
So when I select this walkable mesh in navmesh graph, its 100x smaller and rotated to 90deg, i tried adjusting offsets as you can see on screenshots, but is there a way just to pick the existing mesh on the scene and use it as navmesh graph with its current position and rotation and scale?
Thank you!
P.S. also after manual adjustments, characters seem to think the edge is a walkable part, not the face.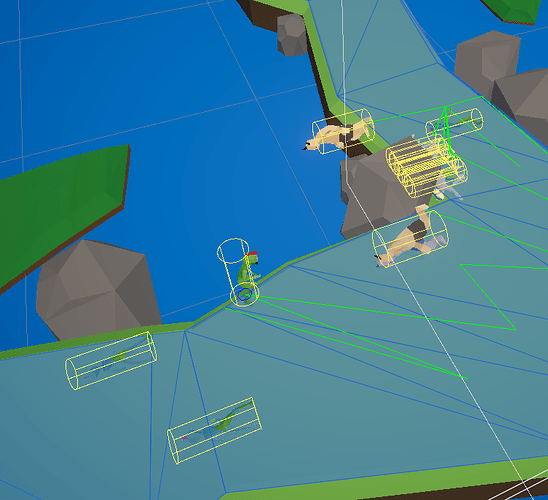 Update:
After re-export with fbx units scale, I only have to change rotation. But still agents behave unexpectedly wrong. All agent are rotated 90 degrees and are walking on the invisble wall with nav mesh. While with grid graph they walk ok.