Thanks for the fantastic navigation system, I really love it.
I am a novice, and currently trying to something that I don't get figured out. I would love some guidance.
I start with a small grid (world), and it is possible to expand it ingame. Digging out more rooms.
Currently I am using the tilemap system of Unity and for performance, I thought it might be good to only have the "floor" layer of my tilemap traversable, and the pathfinding system copy the position of the floor tiles. This way, I dont have te generate a 1000 x 1000 grid in Astar, and I dont need colliders on the walls.
For a little more clarity I added a screenshot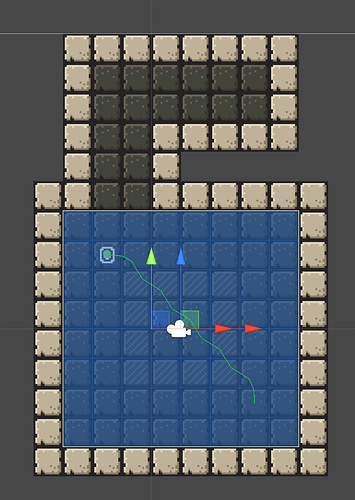 The top part of the tiles in the screenshot are added ingame. This is already working. I would like to archive that "new nodes" are placed on the same position as a newly placed "floor tile".
Is this even possible? Any guidnece to get me started is higly appreciated

ps. I am currently in testing phase. Later I would like to transform it to a isometric grid.