Hello,
I have been testing the RichAI and RVO Controller for a long time, and it is time for me to ask on the forum. I have added a screenshot that describes the issue below.
My recurring issue is that RVO agents will run forever into an obstacle or run around if the destination is not reachable. In the screenshot I have 4 RVO agents (zombies) that illustrates how it happens. I place my player character in a tight corner and 3 of the RVO agents navigate close to the player and lock their positions. At this point, there isn't a way for the fourth agent to get near the player, and I need a way to detect when this happens.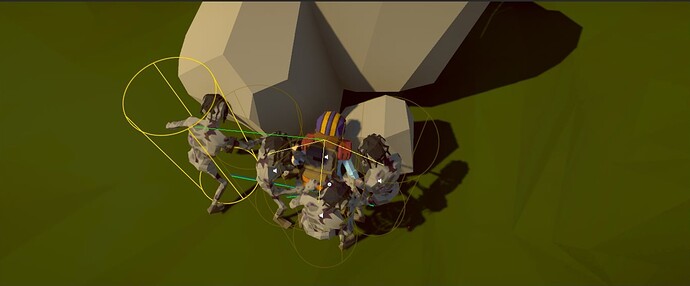 I have experimented with various error-prone solutions which don't solve the underlying problem, for example by detecting whether the agent's velocity is approximately zero for a certain duration, whether the agent's position is roughly the same for a certain duration, and by manually changing the density threshold. These can "work", but are not satisfactory as the agent will regardless run straight into obstacles for a long time.
I appreciate any ideas on how I can detect whether the path to the target is not reachable - meaning that obstacles and locked RVO agents are blocking the path.
Note: Some more details: