I am in the midst of creating a 2D Dungeon Crawler styled game, very similar to the likes of Enter The Gungeon. I have a Dungeon Generation algorithm that creates rooms in a loop and connects them with hallways. However, I need to connect the final room (last loop element) to the start of the entire loop (first loop element). To do this, I use A* Pathfinding to find me the closest route from Room A, to a 'Hallway Attachment Point' (Points where hallway can start/end) in Room B.
This portion works fine, however, to create the hallways I need to walk along the path and instantiate GameObjects. Some of these can be corner, or horizontal/vertical objects. The hallways are 2 Tiles wide, meaning that I cannot do Zig-Zag Maneuvers as efficiently.
I am trying to achieve a path that bends the least amount of times, and if it does, has enough space to bend from a 2-wide path into another 2-wide path (4x4 Tiles).
The issue is: I have no clue where to start. I have tried messing a lot with the Grid Component's values, such as Collision Size, Grid Size etc., but I feel like I am very close to achieving this goal.
I am not trying to change the pathfinding algorithm all too much, maybe there is a way to calculate long sides of an already existing path, and only bending it down in the middle. I have attached images of both the Dungeon Generation and the desired route.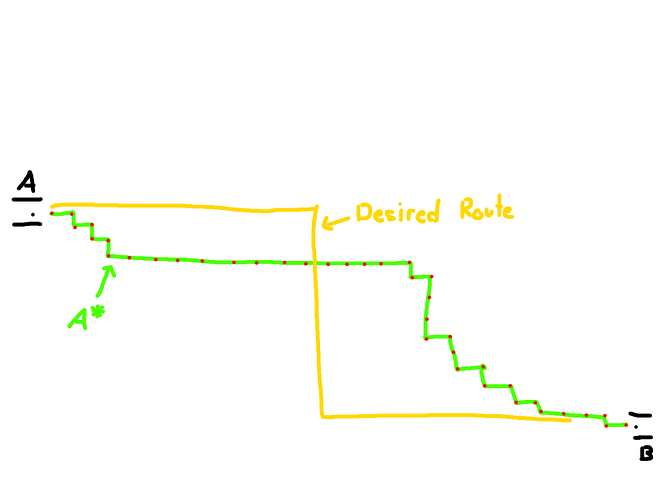 Does anyone have an idea?
Thanks in advance,
Yannick