Hi. First of all, I am using AStar Project and it is so powerful, satisfying asset.
However, I got some problem these days.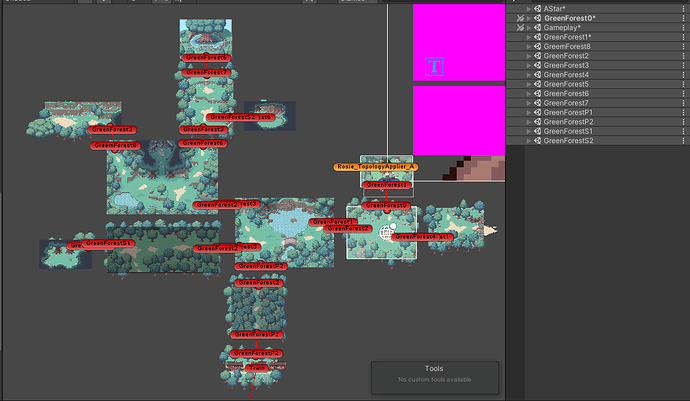 My game's maps are looks like above. I am managing maps by seperated scenes.
the problem is, how am I gonna create a pathfinding graph for each, efficiently?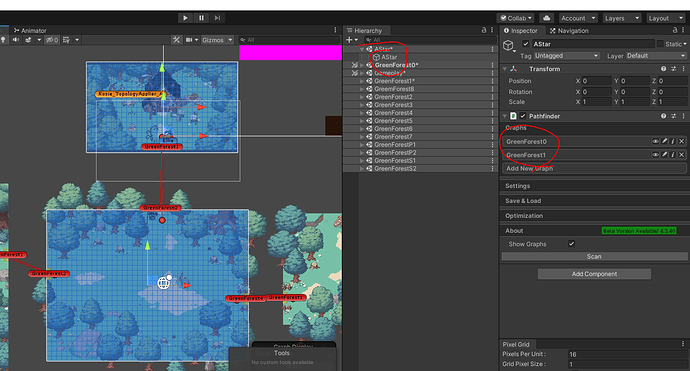 Current Status
Right now I am doing like this, just add new graph for each map. This isn't too bad, But things will get ugly if I want to enable pathfinding for whole map.
The Problems
Managing graph like this is ineifficient. If I move my map, I also need to move my graph. I hope graph can be child of map but looks like it is impossible because we cannot have more than one AStar.
I have more than 32+ maps. But Seeker component seems only support 32 maps.
In Conclusion
A. How do you think about the problems I asked above?
B. Do you have any other solution or example similar with mine? I think my game is similar with most top down RPGs. So there could be some way, I hope so.