This question is a bit long, I do apologize.
It seems that normally when updating NavmeshCut scripts, the system goes for a batching approach. However, because of the length of paths I need, the amount of potential NavmeshCut scripts involved, and that I was already seeing noticeable slowdowns on my PC (and I'd like to port it to iOS), I was concerned about the amount of time it took to do those updates.
To attempt to mitigate this, I tried partially re-configured TilerHandlerHelper to instead work with 1 NavmeshCut Script at a time (and only request 1 update per frame at the most) to spread the calculations out over multiple frames. Unfortunately, doing this seems to have created large spikes in frame time when each NavmeshCut update is processed (so I may go from an average of 10-15ms frames to 100ms+). So I copied my project over to Unity5 and used to profiler, the results of which you can see in the attached photo (and you can compare it against 'normal use' photo as well which is updated in the standard way).
I'm really stuck as to what to do to increase performance (if it is even possible), any ideas on what I'm doing wrong with my modifications / what I should be doing instead would be greatly appreciated.
Normal Usage (TileHandlerHelper updating every 0.25 seconds):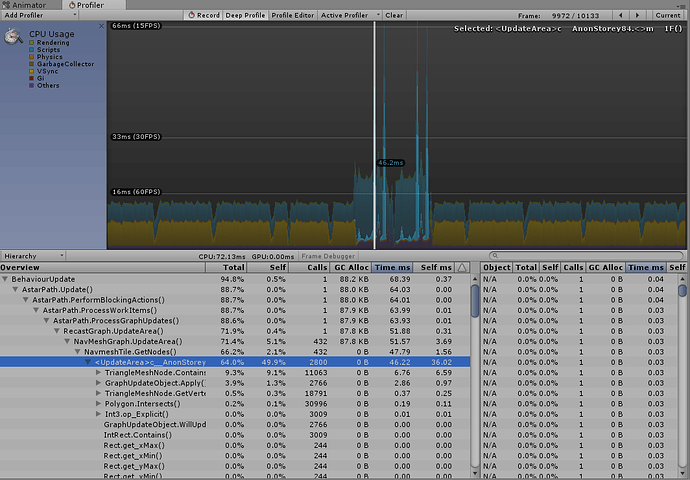 Modified Usage (modified ForceUpdate() every 0.25 seconds)