Hello!
https://arongranberg.com/astar/docs/tags.php
I checked the abovementioned guide and well made my nodes for the GUO script. I am trying to create an unwalkable area (mostly would serve as a door but in this case it is in middle of the room just for test purposes.
I created tags aswell but they don't seem to be doing nothing (well I am probably using them wrong). Didn't see anyone else get stuck on this (checked many/all topics)
However it doesn't seem to work. Is this supported for 2d even or only for 3d (planes). Is there any simple way to create a "door" area which would be thinner than a whole block as currently i can only disable a whole portion of a grid? Am I even going in the right direction?
Awesome tool tho, real masterpiece in its field.
Thank you!
EDIT: i am allowed only 2 pictures so just to say that on seeker component i removed the traversable tick off the closed door tag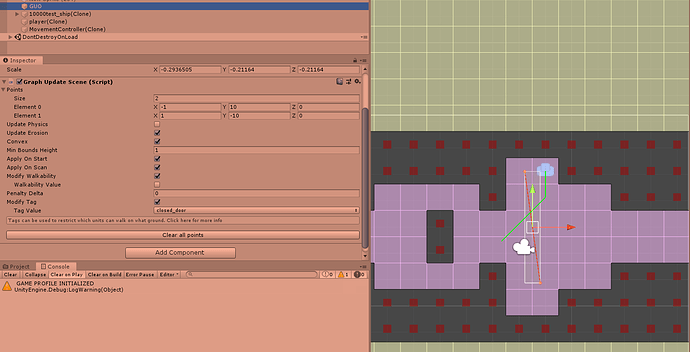 This is an example of where i would like to place doors, but if player clicks on the block above or below he should still be able to "traverse" there but not pass inbetween