Hi,
I'm running 4.3.39 on Unity 2020.2.0f1.
I have my project's asmdef which is referencing the AstarPathfindingProject asmdef.
In my code I am able to see the Pathfinding code and create a variable to reference the Seeker component.
However when I try to use it via m_Seeker.StartPath(...) I get an error:
error CS0012: The type 'VersionedMonoBehaviour' is defined in an assembly that is not referenced.
It appears that VersionedMonoBehaviour is located in a sub asmdef called PackageTools but oddly enough that doesn't show in the Inspector: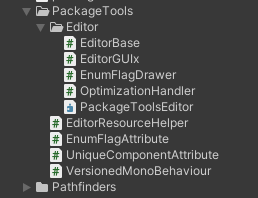 Even though it is physically there on the file system:
I've tried reimporting the package, removing and readding the assembly but no dice.
Any thoughts?
Thanks,
Jon