Hello, first of all thanks for this amazing tool!
I have been trying to move units in formation and facing an issue. I used to use NavMesh for the longest time however there was not much I could do with it because of certain known limitations so I decided to switch to A* Project.
I have my own formation tool where I can create the formation and move units to formation cells. It was a pretty easy process to switch from NavMesh to A* Project. The main reason why I switched was agents behaving erratically in crowded spaces. They stopped sometimes for no apparent reason, it was difficult to move them on uneven terrain and such.
So, I just made A* Project work however I am having trouble with units lagging behind, creating many paths and not pooling properly. I am using RichAI on Recast Graph (I changed the name to AIMovement since I will customize it a bit). In the video you can see the oscillating agents as well as the agents being pushed by others so they get away from thjeir next waypoint so they have to go back to it. How do you think I can make this more consistent and prevent all oscillation.
Here is the video: https://youtu.be/HQ1Vel5u2yk
Here is the AI: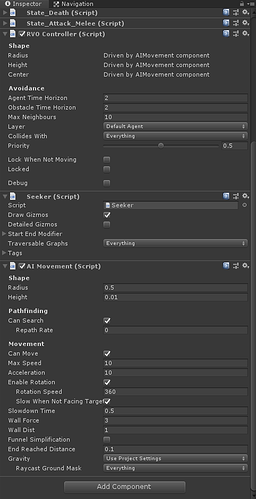 Here is the RVO Simulator:
Here is the AStar Path: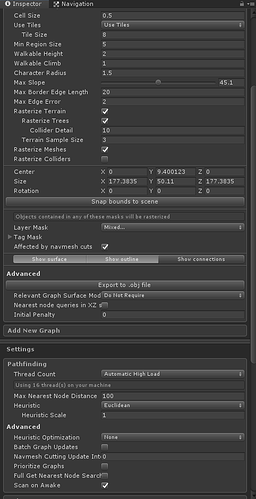 Thanks!